Drive in Comfort and Elegance in Royal Oaks with an Alfa Romeo Stelvio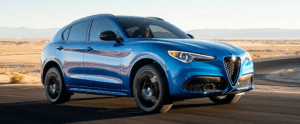 Nestled in the heart of Oakland County, Michigan, Royal Oak is a vibrant city with lush parks, upscale boutiques, and a thriving arts scene. Its eclectic mix of old-world charm and modern sophistication makes it a desirable place for leisurely drives. But to truly enjoy the elegant environs of Royal Oak and neighboring cities such as Birmingham, Farmington Hills, Bloomfield Hills, and Troy, one needs a vehicle that echoes the refinement and style of these locales. 
The Alfa Romeo Stelvio, available at Genesis Alfa Romeo in Macomb, just north of Detroit, is that vehicle. We invite you to visit us for a test drive and experience a new level of comfort and elegance in automotive luxury.
Throttle and Thrills: The Stelvio's Empowering Performance
The Alfa Romeo Stelvio represents the zenith of Italian engineering artistry, a beautiful fusion of performance and precision that represents the brand's rich heritage. This automotive marvel's heart is a 2.0-liter turbocharged four-cylinder engine that pumps out an impressive 280 horsepower and 306 lb-ft of torque. This powerhouse isn't just about raw strength; it's also about delivering exhilarating performance at every turn, creating a symphony of power that perfectly resonates with the dynamic pulse of Royal Oak.
An eight-speed automatic transmission masterfully complements the advanced engineering of the engine. This state-of-the-art system ensures smooth and responsive gear shifts, effortlessly transforming the Stelvio's abundant power into graceful momentum. 
Augmenting the Stelvio's performance is its all-wheel-drive system, the Q4, a marvel of mechanical ingenuity. It offers enhanced grip and stability in various driving conditions, ensuring you can confidently tackle Michigan's diverse weather, from the bright summer sun to the crisp winter snow. The Q4 system intuitively adjusts torque distribution to ensure optimum traction, providing a calm and composed ride. 
Style That Speaks: Exploring the Stelvio's Exquisite Exterior
Evoking the timeless allure of Birmingham's and Troy's sophisticated architectural landscapes, the exterior design of the Alfa Romeo Stelvio is a compelling fusion of minimalist sleekness and dynamic contouring. Its seductive curves and elegant lines resonate with the design ethos of Italian craftsmanship, presenting a vehicular form that's as alluring as it is dominant. 
But the Stelvio's exterior design isn't just about its stunning good looks; it subtly broadcasts the raw power waiting to be unleashed under the hood. The sculpted bodywork, replete with aggressive muscular lines and a poised stance, promises an exhilarating driving performance. 
Finally, the Stelvio's aesthetics are accentuated by an exclusive palette of exquisite colors that combine the design elements in a harmonious blend. Each color option, meticulously chosen and applied, enhances the Stelvio's charisma, making it a moving masterpiece.
Experiencing Luxury: Inside the Stelvio's Opulent Cabin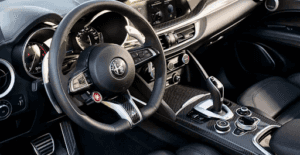 Step into the Stelvio and be welcomed into a world of opulence crafted with the meticulous attention to detail for which Alfa Romeo is renowned. From the moment you sink into the plush Italian leather seats, a sense of luxury envelops you.
As you glance upward, your gaze meets the expansive panoramic sunroof, framing the sky in a way that captures the essence of open-air freedom, akin to a sunny day out in Farmington Hills. This stunning feature adds a touch of elegance to the Stelvio's design and infuses the cabin with natural light, further enhancing the spaciousness and bringing the beauty of Royal Oak's picturesque landscapes into your vehicle.
Its cutting-edge infotainment system is your reliable companion whether you're navigating the dynamic heart of Detroit or the quiet byways of Birmingham and Troy. With a user-friendly interface, high-resolution display, and stellar sound quality, the system offers seamless connectivity, access to real-time information, and an array of entertainment options, ensuring every drive is as engaging as it is comfortable. 
Peace of Mind, Mile After Mile: The Safety Features of the Alfa Romeo Stelvio
Journeying through the streets in an Alfa Romeo Stelvio is more than just an exercise in elegance and comfort – it's an assurance of unwavering safety and tranquility. One of the many feats of this Italian marvel is its impressive suite of standard and advanced safety technologies designed to provide drivers and passengers with comprehensive protection. Key among these are:
The Forward Collision Warning System

The Lane Departure Warning System

The Adaptive Cruise Control
Each safety feature in the Stelvio is a testament to Alfa Romeo's commitment to secure driving. The Forward Collision Warning system meticulously monitors the road ahead, alerting you to potential collisions and even applying the brakes if needed. The Lane Departure Warning ensures your vehicle stays safely within its lane, gently guiding you back if the car begins to drift. Meanwhile, the Adaptive Cruise Control manages your speed and distance from the vehicle in front, making long drives on the highways of Farmington Hills, Bloomfield Hills, or any other location an effortless endeavor.
What truly complements these safety features is the robust construction of the Stelvio and its suite of advanced driving aids. The Stelvio's sturdy chassis and intelligent safety systems work harmoniously to maximize protective measures, offering drivers an added layer of assurance.
Visit Genesis Alfa Romeo for a Test Drive Today
The Alfa Romeo Stelvio is more than just a vehicle. It's a statement of style, a testament to the performance, and a promise of comfort and safety. Driving through the vibrant locales of Royal Oak, Birmingham, Detroit, Farmington Hills, Bloomfield Hills, or Troy becomes an unparalleled experience when you're behind the wheel of a Stelvio.
At Genesis Alfa Romeo, we are passionate about delivering this luxurious experience to our customers. Our friendly sales staff is ready to guide you through every step of your journey, from choosing the right model to securing the best financing options. Once you're a part of the Genesis Alfa Romeo family, our state-of-the-art Service Center ensures that your Stelvio is always at its peak performance, letting you enjoy your drives in Royal Oak and beyond without any worries.
Visit Genesis Alfa Romeo in Macomb today, and drive away in your Alfa Romeo Stelvio. Discover the true meaning of comfort and elegance on four wheels.