Drive with Distinction in Troy in an Alfa Romeo Giulia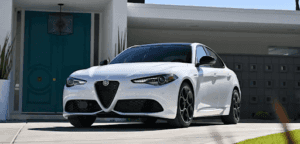 Against a backdrop of historical architecture, picturesque landscapes, and bustling city life, Troy offers a unique blend of cultural richness and suburban charm. While Troy's beauty is undeniable, imagine elevating your experience by touring its scenic locales from the comfort of an Alfa Romeo Giulia. With its stunning design, powerful performance, and unrivaled luxury, the Giulia offers an exceptional driving experience.
Genesis Alfa Romeo invites you to explore Troy and its nearby cities—Detroit, Macomb, Birmingham, Royal Oak, Farmington Hills, and Bloomfield Hills—in style and elegance. Visit us today for a thrilling test drive and discover what it means to drive with distinction.
Ignite Your Senses: Unleashing the Dynamic Power of the Alfa Romeo Giulia
The Alfa Romeo Giulia doesn't just embody performance—it redefines it. Nestled beneath its sleek hood lies an efficient, turbocharged 2.0-liter four-cylinder engine, a powerhouse that generates an impressive 280 horsepower and 306 lb-ft of torque. This robust engine, paired with an 8-speed automatic transmission, seamlessly propels the Giulia from a standstill to highway speeds with astonishing swiftness. This potent combination offers a riveting driving experience full of exhilaration and excitement, whether you're accelerating down the freeways of Detroit or taking on the winding roads of Macomb.
But the Giulia's power isn't just about straight-line performance—it's about a balanced, holistic driving experience. Thanks to its superior handling capabilities, the Giulia remains poised and responsive in every driving situation. Its finely-tuned suspension system deftly absorbs road imperfections, providing a ride that's as smooth as it is engaging. The steering is sharp and precise, giving you a direct connection to the road and heightening the sense of control and exhilaration.
Furthermore, the Giulia features an advanced driving dynamics control system, Alfa DNA, which allows you to tailor the vehicle's performance to your driving style and road conditions. With modes such as Dynamic, Natural, and Advanced Efficiency, you can optimize throttle response, shift speeds, and change steering calibration to match your driving preference.
Born to Stand Out: Embrace the Exquisite Exterior Design of the Alfa Romeo Giulia
The Alfa Romeo Giulia is an artistic masterpiece in motion. Each line, curve, and angle is crafted with purpose, creating a form that captivates and inspires at every glance. Its streamlined silhouette, sculpted for optimum aerodynamics, conveys an unmistakable sense of elegance and dynamism.
This Italian charmer's frontage is graced by the iconic Alfa Romeo grille, a signature element that enhances its prestige and heritage. Coupled with sleek LED headlights and meticulously crafted details, the Giulia radiates a confident, forward-moving stance. This combination of traditional Italian design ethos and innovative styling elements ensures that the Giulia always makes a statement, whether you're making a grand entrance in Birmingham or turning heads in Royal Oak.
The Giulia's exterior isn't just about looks—it's a celebration of Alfa Romeo's storied history, an embodiment of its dedication to automotive excellence. Its design harmoniously blends tradition and modernity, a testament to the brand's unwavering commitment to superior aesthetics and functionality.
Seamless Sophistication: Elevate Your Drive with the Alfa Romeo Giulia's Interior
Step inside the Alfa Romeo Giulia, and you'll be enveloped in a world of unparalleled comfort and luxury. The spacious cabin is thoughtfully crafted, combining premium materials and meticulous attention to detail.
Designed with the driver in mind, the Giulia boasts ergonomic seats that provide exceptional support and comfort, allowing you to embark on long journeys easily. Whether cruising through the streets of Birmingham or embarking on a road trip to Farmington Hills, the Giulia ensures that every mile is met with a serene and relaxing experience. The intuitive layout of controls allows effortless access to the vehicle's features, enabling you to stay focused on the road ahead.
The Alfa Romeo Giulia also integrates state-of-the-art technology to enhance comfort and convenience. The advanced infotainment system serves as the centerpiece, offering seamless connectivity and entertainment options to elevate your driving experience. From the crisp display to the intuitive controls, you'll have access to a world of information and entertainment at your fingertips.
Stay Protected, Drive Confidently: The Cutting-Edge Safety Features of the Alfa Romeo Giulia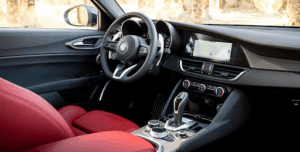 Safety is paramount in the Alfa Romeo Giulia, a fact that's evident in its comprehensive suite of advanced safety features. Built with robust construction and strategically placed airbags, the Giulia prioritizes the protection of its occupants. The solid structure forms a strong foundation that enhances occupant safety in the event of a collision, while the airbags provide an additional layer of defense, ready to deploy when needed.
The Giulia takes safety to the next level with sophisticated technologies designed to prevent accidents and mitigate potential risks. The Forward Collision Warning system uses sensors and cameras to monitor the road ahead, alerting you to any potential frontal collisions and assisting in avoiding or reducing the severity of accidents. Meanwhile, the Lane Departure Warning system helps keep you in your lane by detecting unintentional drifting and providing timely alerts.
Furthermore, the Blind Spot Monitoring feature acts as an extra set of eyes on the road, detecting vehicles in your blind spots and alerting you to their presence, ensuring safer lane changes and minimizing the risk of accidents.
Upgrade to Distinction and Style with an Alfa Romeo Giulia from Genesis Alfa Romeo
We're thrilled to bring you closer to this remarkable driving experience at Genesis Alfa Romeo. Our knowledgeable sales team is eager to guide you through the intricacies of the Alfa Romeo Giulia and help you discover its perfect blend of performance, luxury, and safety. Our Finance Center offers flexible financing solutions to make your Giulia ownership journey seamless and rewarding.
Beyond the purchase, Genesis Alfa Romeo remains committed to ensuring your Alfa Romeo Giulia stays in top-notch condition. Our Service Department, staffed by highly skilled technicians, provides exceptional maintenance and repair services. 
Experience the unmatched joy of driving an Alfa Romeo Giulia through Troy and its picturesque surroundings. Visit Genesis Alfa Romeo today for a test drive, and let the journey of distinction begin.