Explore Bloomfield Hills in a Stylish 2023 Alfa Romeo Giulia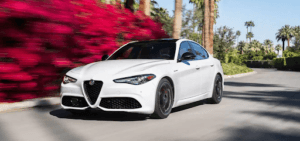 There is nothing quite like a drive through the picturesque city of Bloomfield Hills, especially when you're behind the wheel of the captivating 2023 Alfa Romeo Giulia. It's an experience that seamlessly melds power, elegance, sophistication, and adrenaline with the beautiful backdrop of one of Michigan's most scenic areas.
At Genesis Alfa Romeo, we invite you to come and see what luxury is all about. Our friendly, knowledgeable staff can guide you through every aspect of the Guilia and let you experience its extraordinary performance on a test drive.
Commanding the Road: Giulia's Powerhouse Persona
The 2023 Alfa Romeo Guilia transcends the conventional definition of a car—it's a high-performance testament to Italian engineering prowess. The Guilia is a masterpiece, a symphony of power, luxury, and style that captures the essence of the Alfa Romeo heritage.
At the beating heart of the Guilia lies a potent turbocharged 2.0L engine, a marvel of engineering that generates an impressive 280 horsepower. It transforms your drive, providing the gusto needed to navigate the serene streets of Bloomfield Hills effortlessly. Whether you're cruising down Woodward Avenue or accelerating on the highway, the Giulia's dynamic performance will surely invigorate your everyday driving experience.
The handling of the Guilia is no less remarkable. Thanks to its ideal 50/50 weight distribution, the Guilia exhibits agility and control rarely seen in vehicles. Every corner and turn becomes a thrilling rendezvous with precision as the Guilia responds to your commands with a fluidity that feels instinctive. Complementing this is a class-leading rear-wheel-drive system that further refines the drive dynamics. It offers superior road grip and an exhilarating driving experience that sets it apart from its competitors.
A Showstopper on the Streets: Giulia's Alluring Exterior

The exterior design of the Giulia is a masterclass in Alfa Romeo's devotion to grace and aerodynamic finesse. Each curve, each line, and each detail is meticulously crafted to exhibit an aesthetic that is both timeless and forward-thinking. The 2023 Guilia is not just a car—it's a work of art on four wheels that will surely steal the spotlight on the charming streets of Bloomfield Hills.
The Giulia's front façade is marked by Alfa Romeo's iconic "Trilobo" front grille. This signature design element and the car's elegant silhouette evoke a sense of motion even when stationary. The grille is framed by sleek LED headlights that don't just provide excellent visibility—they also add to the car's predatory look, making it appear ready to pounce at any moment.
Running along the sides, Giulia's sculpted lines smoothly transition into a streamlined rear, enhancing its aerodynamic profile. It's a design that's not just about aesthetics but also about performance, reducing drag, and improving fuel efficiency while maintaining high-speed stability.
Complementing this sophisticated design are the Giulia's stylish 17-inch alloy wheels. These wheels give the Guilia a sportier stance and play a crucial role in its handling and ride comfort.
Experience the Extravagance: Giulia's Plush Interior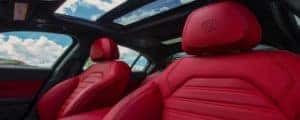 The interior is a testament to Alfa Romeo's commitment to premium quality. Each surface is adorned with luxurious materials. Soft-touch materials are used generously throughout the cabin, further enhancing the tactile experience and creating a sanctuary that protects you from the hustle and bustle of the outside world. The seats, crafted from the finest leather, are designed to provide both supreme comfort and excellent support. These aren't just seats—they're personal havens where you can relax and enjoy the drive.
Technology is seamlessly integrated into the Giulia's luxurious interior. The state-of-the-art infotainment system sits elegantly in the dashboard's center, ready to keep you connected, entertained, and informed. Whether enjoying your favorite music, navigating through Bloomfield Hills, or staying in touch with the world, everything is just a touch away.
Space is another area where the Giulia excels. The cabin layout has been intelligently designed to maximize space and ensure that all occupants, whether in the front or the back, can enjoy a comfortable ride. There's ample legroom, headroom, and elbow room, making every journey—even the long ones—delightful.
Ensuring Safe Journeys: Unpacking Giulia's Safety Features
The Giulia's advanced forward-collision warning system is a vigilant guard, constantly monitoring the road ahead. Should it detect a potential collision, it alerts you promptly, allowing you to react and avoid potential accidents. When a collision is imminent, the automatic emergency braking steps in, applying the brakes to reduce the impact or, when possible, prevent the collision entirely.
Another key safety feature is the lane-departure warning system. Keeping track of the vehicle's position within the lane markings alerts you if the Guilia starts to drift from its lane without a turn signal, helping to prevent unintended lane changes and potential accidents.
The Giulia's commitment to safety extends beyond its driver-assistance systems. Built with a robust construction using high-strength steel and aluminum, the Guilia provides exceptional protection during a collision. An array of airbags, including front, side, and curtain airbags, further ensures the safety of all occupants, cushioning the impact and minimizing potential injuries.
Moreover, the Giulia comes equipped with a tire pressure monitoring system, ensuring that your tires are always at optimal pressure, enhancing your safety and your vehicle's performance and fuel efficiency.
Test Drive the Stylish 2023 Alfa Romeo Giulia Today at Genesis Alfa Romeo 
Embrace the exhilaration of commanding a 2023 Alfa Romeo Giulia through the scenic cityscape of Bloomfield Hills today. At Genesis Alfa Romeo, we are excited to offer you a diverse selection of new vehicles, each designed to enhance your driving experience and add a touch of Italian luxury to your everyday life.
Our dedicated Finance Department is on hand to help you navigate the purchasing process for the most beneficial financing options tailored to your personal needs. Whether you're considering leasing or buying, our knowledgeable team will guide you through every step, making your dream of owning an Alfa Romeo Giulia a reality.
Come visit our dealership today. Meet our friendly and experienced team that's eager to introduce you to the wondrous world of Alfa Romeo. We're here to help you discover the pure joy and unparalleled thrill of driving an Alfa Romeo Giulia.