Find Your Next Alfa Romeo in Macomb Township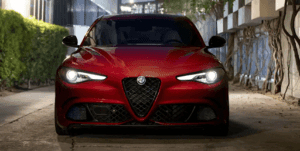 Macomb Township, a bustling suburb located northeast of Detroit, offers a unique blend of quiet suburban living and urban excitement. Boasting popular areas such as Troy, Royal Oaks, and Birmingham, Macomb Township has become a sought-after destination for those looking to escape the hustle and bustle of city life. Cruise down the picturesque streets of Macomb Township in a sleek new Alfa Romeo. Turn heads and garner admiration from your neighbors and friends.
Genesis Alfa Romeo, a premier dealership in Macomb Township, is the perfect place to find your next Alfa Romeo, whether it's the sporty Giulia or the luxurious Stelvio.
The Powerhouse Duo: Giulia and Stelvio's Performance Prowess
Alfa Romeo, an iconic brand representing the pinnacle of Italian craftsmanship, engineering prowess, and exhilarating driving dynamics, is known for providing drivers with a driving experience that is truly second to none. At the heart of the Alfa Romeo lineup, you'll find the Giulia, a captivating sports sedan, and the Stelvio, a luxurious, high-performance SUV.
Under the hood, the Giulia and Stelvio are equipped with state-of-the-art turbocharged engines, offering a perfect blend of power and efficiency. These potent powertrains are paired with an advanced eight-speed automatic transmission, delivering smooth and precise gear shifts that maximize performance and responsiveness.
Not only do these Alfa Romeo models boast impressive powertrains, but they also feature sophisticated suspension systems and precise handling that elevate the driving experience even further. The Giulia, with its rear-wheel-drive platform and near-perfect weight distribution, delivers a sports sedan engaging and balanced experience. The Stelvio, on the other hand, benefits from its innovative all-wheel-drive system, providing drivers with superior traction, stability, and control in a wide range of driving conditions.
Sculpted Perfection: Alfa Romeo's Fusion of Form and Function
The exterior design of Alfa Romeo vehicles masterfully combines aesthetics and functionality, reflecting the brand's unwavering commitment to crafting vehicles that are as visually stunning as they are performance-oriented. Both the Giulia and Stelvio models exhibit an array of striking design elements that embody the essence of Italian automotive artistry.
The Giulia and Stelvio share several hallmark design features, such as flowing lines, sculpted bodywork, and the unmistakable V-shaped Scudetto grille, which is the signature centerpiece of Alfa Romeo's design language. These distinctive elements enhance the vehicles' visual appeal and contribute to their aerodynamic efficiency, ensuring that your Alfa Romeo makes a lasting impression on the streets of Troy, Royal Oaks, and Birmingham.
The Stelvio, a luxury SUV with a commanding presence, stands out with its elevated stance and muscular profile. Its broad shoulders, sweeping roofline, and athletic proportions create a sense of dynamism and strength, while the gracefully integrated rear spoiler and elegant LED taillights accentuate its refined character. The Stelvio's design exudes confidence and poise, demanding attention wherever it goes.
The Art of Comfort: Inside the Lavish World of Alfa Romeo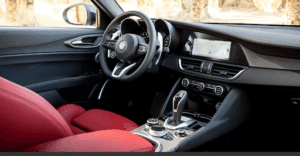 Upon entering an Alfa Romeo, you'll immediately be immersed in an environment with luxury, sophistication, and meticulous attention to detail. The Giulia and Stelvio showcase an exquisite selection of premium materials, thoughtful design elements, and first-class craftsmanship that set them apart from other vehicles in their respective classes.
The interiors of the Giulia and Stelvio are adorned with soft, supple leather upholstery that creates an atmosphere of comfort and refinement. Elegant wood accents and high-quality aluminum trim elements can be found throughout the cabin, adding a touch of class and visual interest. The careful attention to detail and precise craftsmanship is evident in every aspect of the cabin design, demonstrating Alfa Romeo's commitment to delivering an exceptional driving experience.
Designed with driver comfort and ergonomics in mind, the Giulia and Stelvio offer a driver-centric cockpit that seamlessly integrates state-of-the-art technology and intuitive controls. The driver's seat and steering wheel are easily adjustable to accommodate different preferences, ensuring an optimal driving position and enhanced visibility. The user-friendly infotainment system and conveniently placed controls allow the driver to stay connected and in control without taking their eyes off the road.
The Safeguard of Luxury: Alfa Romeo's Innovative Approach to Safety
Safety is a top priority for Alfa Romeo. The brand is committed to providing drivers and passengers with a secure and confident driving experience. Both the Giulia and Stelvio models are equipped with a comprehensive suite of advanced safety features and technologies designed to protect, assist, and provide peace of mind on every journey.
The Giulia and Stelvio models have an impressive array of safety features, including forward-collision warning, which alerts the driver to potential frontal collisions and can automatically apply the brakes if necessary. The adaptive cruise control maintains a safe following distance from the vehicle ahead. It adjusts speed accordingly, making long drives and highway commutes more comfortable and less fatiguing.
Lane-keep assist monitors the vehicle's position within its lane and provides corrective steering input if the car begins to drift unintentionally, helping drivers stay safely on course. Blind-spot monitoring keeps a watchful eye on the areas beside and behind the vehicle, alerting the driver to the presence of other cars in their blind spots when changing lanes or merging onto highways.
Genesis Alfa Romeo – Your Gateway to Italian Luxury in Macomb Township
As you explore the vibrant neighborhoods of Macomb Township, there's no better way to do so than behind the wheel of an Alfa Romeo. With their perfect blend of power, performance, and luxury, the Giulia and Stelvio models are an excellent choice for those seeking a unique and exhilarating driving experience.
Don't miss out on the opportunity to own a piece of Italian automotive excellence. Whether you're looking for a spirited drive through the streets of Troy, Royal Oaks, and Birmingham or a comfortable and stylish ride for your daily commute in Macomb Township and Detroit, an Alfa Romeo from Genesis Alfa Romeo is the ultimate choice.
Visit Genesis Alfa Romeo today and experience the unparalleled elegance, performance, and sophistication of the Giulia and Stelvio models. Our dedicated team of professionals will guide you through the entire process, from test drive to financing, ensuring that you leave our dealership with the perfect Alfa Romeo to complement your lifestyle in Macomb Township.