Get Pre-Approved for an Alfa Romeo Giulia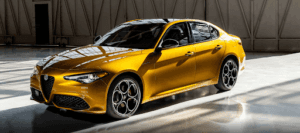 The Alfa Romeo Giulia is a testament to Italian craftsmanship and design, offering drivers an unparalleled blend of style, luxury, and performance. This stunning sedan has gained immense popularity for its distinctive and alluring aesthetics, captivating those who seek an extraordinary driving experience.
At Genesis Alfa Romeo, we make getting pre-approved for a new Alfa Romeo Giulia easy so you can experience the thrill of owning this iconic vehicle. Visit us today to learn more about our financing options and take the first step toward driving your dream car.
Unleash the Power: Engine Options and Capabilities
The Alfa Romeo Giulia is meticulously engineered to deliver a thrilling driving experience, offering drivers a selection of potent engines to suit their preferences. At the core of the standard Giulia lies a turbocharged 2.0-liter 280-horsepower engine that produces remarkable acceleration and remarkably agile handling, allowing you to navigate any road confidently and effortlessly.
For those who crave even more incredible performance capabilities, the Giulia Quadrifoglio is the ultimate choice. This high-performance variant boasts a formidable 2.9-liter V6 bi-turbo engine that generates a jaw-dropping 505 horsepower, providing an adrenaline-pumping driving experience that is truly unparalleled.
The Giulia's outstanding performance attributes are not limited to its powerful engine lineup. The vehicle's advanced suspension system works harmoniously with its lightweight construction and near-perfect weight distribution to deliver exceptional handling and stability, even at high speeds. This meticulous engineering ensures that every drive in the Giulia, whether on the bustling streets of Detroit or the winding roads beyond, is an unforgettable experience exhilarating the senses.
Experience Luxury: Premium Materials and Craftsmanship
As you step into the Alfa Romeo Giulia, you'll immerse yourself in an interior that blends luxury, comfort, and practicality. The cabin is adorned with premium materials, including supple leather upholstery and authentic wood accents, which create a refined and sophisticated atmosphere that exudes Italian craftsmanship.
The Giulia's driver-centric layout is thoughtfully designed to ensure that all controls and instruments are conveniently positioned within easy reach for an intuitive driving experience. Every detail of the Giulia's interior is carefully considered, with ergonomic seating and adjustable settings catering to the driver's and passengers' needs.
Complementing the luxurious design of the Giulia's interior is a host of cutting-edge technology features that keep you connected, entertained, and informed throughout your journey. The cabin's centerpiece is the 8.8-inch touchscreen infotainment system, which offers seamless integration with your smartphone, allowing you to access your favorite apps, music, and navigation with just a few taps. 
Sculpted Elegance: Flowing Lines and Dynamic Silhouettes
The Alfa Romeo Giulia's exterior design is an exquisite expression of artistry, exemplifying the brand's unwavering dedication to elegance and sophistication. Its bold front grille takes center stage, proudly displaying the iconic Alfa Romeo emblem, symbolizing the rich heritage of Italian automotive excellence.
The Giulia's exterior is characterized by sharp, clean lines and sculpted bodywork that convey a sense of athleticism and dynamism, perfectly capturing the essence of the vehicle's performance capabilities. The subtle curves and flowing contours of the Giulia's design create a striking visual appeal and contribute to its impressive aerodynamic efficiency.
The Giulia's captivating presence is further accentuated by a range of stunning alloy wheel designs, available in various sizes and styles to suit individual tastes. Each wheel option perfectly complements the Giulia's elegant design, adding the finishing touch to its head-turning appearance.
Seamless Safety Integration: Where Technology Meets Protection
The Alfa Romeo Giulia strongly emphasizes safety, ensuring that you and your passengers remain protected throughout your journey. To achieve this, the Giulia is equipped with an extensive array of advanced safety features designed to keep you informed, prevent accidents, and provide assistance when necessary.
Standard safety features on the Giulia include Forward Collision Warning with Autonomous Emergency Braking, which actively scans the road ahead to detect potential collisions and applies the brakes if necessary to avoid or minimize the impact. Additionally, the Lane Departure Warning system monitors your position within the lane, alerting you if the vehicle begins to drift unintentionally, while the Blind Spot Monitoring system keeps you aware of cars in your blind spots, providing added confidence during lane changes and merging maneuvers.
For even greater convenience and protection, the Alfa Romeo Giulia offers a selection of available safety features, such as Adaptive Cruise Control, which automatically adjusts your speed to maintain a safe following distance from the vehicle ahead. The Traffic Jam Assist feature provides semi-autonomous driving support in slow-moving traffic, making those long commutes more manageable.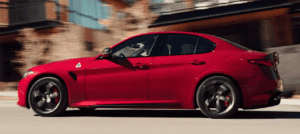 Easy Steps to Getting Pre-Approved for a New Giulia with Genesis Alfa Romeo
At Genesis Alfa Romeo, we strive to make getting pre-approved for a new Alfa Romeo Giulia as simple and stress-free as possible. Our experienced finance team will guide you through the following steps:
Visit our website and complete our secure online pre-approval application form.

Submit the necessary documentation, such as proof of income, credit history, and personal identification.

Receive a financing decision from our team of experts, who will work with you to find the best financing option for your needs and budget.

Select your dream Alfa Romeo Giulia from our extensive inventory and finalize the purchase or lease agreement.
Ready to Start Your Pre-Approval Process? Contact Genesis Alfa Romeo Today!
Don't wait any longer to experience the unparalleled luxury and performance of the Alfa Romeo Giulia. Visit Genesis Alfa Romeo today and let our dedicated professionals help you get pre-approved for this exquisite Italian sedan.
With our commitment to exceptional customer service and convenient financing options, you can quickly drive home in the car of your dreams. We proudly serve the Detroit, Macomb, Royal Oak, and Troy areas, ensuring our customers have access to the finest vehicles and financing solutions.
Stop by Genesis Alfa Romeo or visit our website to start your pre-approval process and get behind the wheel of the captivating Alfa Romeo Giulia today.