The Alfa Romeo Stelvio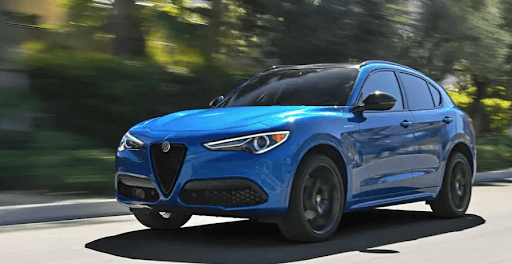 Are you a resident of Birmingham looking to buy a brand-new mid-size SUV? If so, you're probably considering an SUV because of the ample storage space they offer, tech and safety features, and how they handle on the road. 
But let's face it: you don't want just any SUV on the market. No, you want something that is safe, luxurious, and a step above the rest. You want an Alfa Romeo Stelvio from Genesis Alfa Romeo near Royal Oak, MI. 
This mid-size SUV not only has the power and versatility that you want in an SUV, but it has the sophistication you've come to expect from the Alfa Romeo brand of vehicles. 
Don't just take our word for it. Here's an overview of how the Alfa Romeo Stelvio stacks up to the competition. 
Excellent, Top-Rated Performance 
Did you know that the 2023 Stelvio has been recognized for having the best-in-class horsepower and lb-ft of torque? It's true. The Stelvio's engine is in a league of its own, boasting 280 horsepower and 306 lb-ft of torque. It can also reach top speeds of 60 miles per hour in less than 5.5 seconds. 
This is in comparison to the Lexus RX, which can reach those same top speeds in 5.9 seconds. Likewise, the Jaguar F-Pace can reach 60 miles per hour in 6.9 seconds, making the Stelvio stand above the competition. 
The same applies to the comparison between the Stelvio and Hyundai Palisade. Though the Palisade offers HTRAC all-wheel drive that gives you greater traction on the road, even in the worst road conditions, the Stelvio offers a DNA Drive Mode Selector that lets you choose how you want to drive and how it affects things like response, comfort, and fuel efficiency. 
Impressive Safety Features that Are in a League of Their Own
Performance features aside, the Stelvio also offers excellent safety features that outrank the competition. 
The BMW X3 and X4 models, for example, offer excellent top-rated safety features like Lane Departure Warning and Active Blind Spot Detection. The Stelvio, on the other hand, has Active Lane Spot Assist, as well as Driver Attention Alert, LaneSense Lane Keep Assist, Intelligent Speed Control, and Highway & Traffic Jam Assist. 
This isn't an exhaustive list, either. The Stelvio also offers Adaptive Cruise Control and Forward Collision Warning with Full Stop. Though the Porsche Macan does offer ParkAssist, it's no match for the lengthy safety and security features the Stelvio offers.
Impeccable Design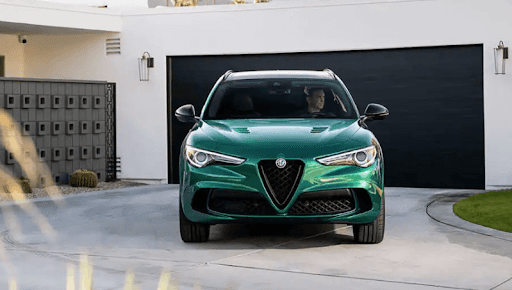 When it comes to style and design, the Stelvio boasts the only kind of beauty you'd expect from this lineup of vehicles. 
First, the Stelvio offers a wide variety of color options, including Okra, Misano Blue, Rosso, and Vesuvio Gray. The Jeep Grand Cherokee offers more muted color options including Bright White and Hydro Blue, leaving fewer options for buying a car that matches your unique style and personality. 
But it's not just the outside of the vehicle that offers personality and impeccable design. It's the interior of the vehicle, too. While the Hyundai Palisade has a beautiful cream-colored interior, it doesn't compare to the Stelvio's leather seats and brushed aluminum accents that provide an extra touch of class. 
Explore the Open Road in a Stylish New Alfa Romeo Stelvio by Scheduling a Test Drive at Genesis Alfa Romeo Today!
Serving the Bloomfield Hills and Troy areas, the team at Genesis Alfa Romeo in Macomb, MI, is here to help you get behind the wheel of this stylish vehicle that has a longstanding legacy for performance. 
When compared to other vehicles on the market, including the ones mentioned here, it's easy to see why so many people continue gravitating toward the Alfa Romeo Stelvio. With excellent handling and capabilities, impressive safety features, and an allowance for personality, this vehicle has it all. 
If you're ready to schedule a test drive, we welcome you to stop by our Alfa Romeo dealership. We're conveniently located at 18181 Hall Road, Macomb, MI 48044. Our doors are open Monday-Friday 8:30 am – 6:00 pm, and Saturday from 9:00 am – 1:00 pm. 
To make your appointment as seamless as possible, we also invite you to take advantage of our many shopping tools, including applying for financing before you stop in. By doing so ahead of time, you won't have to guess what kind of loan you qualify for. 
Buying a brand-new Alfa Romeo Stelvio has never been easier with the team at Genesis Alfa Romeo near Detroit, MI.