Turn Heads in a New Alfa Romeo Stelvio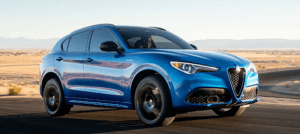 Imagine cruising through the bustling streets of Detroit, commanding the attention of onlookers and making a lasting impression on your friends and neighbors. This dream can become a reality when you choose the all-new Alfa Romeo Stelvio from Genesis Alfa Romeo. This luxurious and eye-catching SUV is more than just a stunning visual masterpiece; it's a perfect blend of power, performance, and cutting-edge safety features to keep you and your loved ones secure on the road.
Why blend in when you can stand out? The Alfa Romeo Stelvio is a statement-maker, and now is the perfect time to elevate your driving experience. Genesis Alfa Romeo invites you to visit our showroom and get behind the wheel of this remarkable vehicle for a test drive. Make a bold statement and embrace the epitome of Italian craftsmanship and style with the Alfa Romeo Stelvio. Visit Genesis Alfa Romeo today and let our dedicated team of professionals guide you through finding the perfect Stelvio that suits your lifestyle. 
Power and Performance: Unleashing the Beast Within
Beneath the sleek exterior of the Alfa Romeo Stelvio lies a powerhouse waiting to be unleashed. Engineered to deliver an adrenaline-pumping driving experience, the Stelvio offers a selection of turbocharged engines that cater to your performance needs. Among these options is the formidable 2.0-liter 280-horsepower engine, which provides exhilarating acceleration and exceptional handling capabilities.
The Stelvio's advanced Q4 all-wheel-drive system works with its potent engine to ensure superior control and traction in various weather conditions. Whether navigating the snowy streets of Troy or cruising on a sunny summer day, the Stelvio's intelligent drivetrain will adapt to the situation, providing you with optimal grip and stability.
Additionally, the Alfa Romeo Stelvio boasts a near-perfect weight distribution, resulting in a smooth and balanced ride that rivals even the most refined luxury vehicles. This harmonious balance contributes to the Stelvio's remarkable handling prowess and enhances overall driving comfort, making every journey a delightful experience.
Exterior Design: Turning Heads with Style and Elegance
The Alfa Romeo Stelvio's captivating exterior design reflects the brand's unwavering dedication to elegance, sophistication, and Italian craftsmanship. As you approach the Stelvio, you're immediately drawn to its striking front grille, which proudly displays the iconic Alfa Romeo emblem – a symbol of luxury and heritage. 
As you continue to explore the Stelvio's exterior, you'll discover many eye-catching details that further elevate its visual appeal. The LED daytime running lights enhance visibility and add a contemporary flair to the vehicle's front fascia. Meanwhile, the dual exhaust tips and sculpted bodywork hint at the powerful performance capabilities beneath the hood, creating perfect harmony between form and function.
The Stelvio's meticulous design is bound to leave a lasting impression on anyone who sets eyes on it, whether you're cruising through the bustling streets of Detroit or exploring the scenic roads beyond the city limits. 
Interior Design and Comfort: Step into Luxury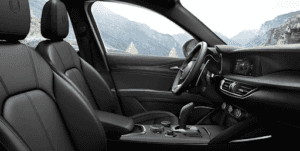 When you open the door and step inside the Alfa Romeo Stelvio, you'll be enveloped in an environment that expertly marries luxury and practicality. The cabin is adorned with premium materials such as supple leather and genuine wood accents, which create a refined and upscale ambiance that speaks to the Stelvio's Italian heritage.
The spacious interior ensures that passengers and cargo have ample room, making the Stelvio an ideal choice for families and adventure seekers alike. Thoughtfully designed, the Stelvio's ergonomic layout places all controls within easy reach, ensuring that every journey is intuitive and seamless. You'll feel right at home in the driver's seat, surrounded by user-friendly controls and instruments that cater to your every need.
As you settle into the Stelvio, you'll find a wealth of cutting-edge technology designed to enhance your driving experience. The cabin's centerpiece is the 8.8-inch touchscreen infotainment system, which keeps you connected and entertained with features like navigation, smartphone integration, and premium audio options. This advanced system allows you to access your favorite apps, playlists, and more with just a few taps, making every drive more enjoyable and engaging.
Advanced Safety Features: Protecting What Matters Most
The Alfa Romeo Stelvio is more than just a stunning and powerful vehicle; it is also purposefully designed to focus on safety and driver well-being. Boasting a comprehensive suite of advanced safety features, the Stelvio ensures you can drive confidently, knowing that you and your passengers are well-protected on every journey.
Standard safety features like Forward Collision Warning with Autonomous Emergency Braking, Lane Departure Warning, and Blind Spot Monitoring work together to keep you aware of your surroundings and potential hazards. These systems actively monitor the road ahead, providing alerts and taking corrective action when necessary to help prevent collisions.
For those seeking even greater peace of mind, the Alfa Romeo Stelvio offers additional safety features that enhance convenience and protection. Adaptive Cruise Control, for instance, automatically adjusts your cruising speed to maintain a safe distance from the vehicle in front of you, while Traffic Jam Assist combines the benefits of both Adaptive Cruise Control and Lane Keeping Assist to provide a stress-free driving experience in congested traffic conditions.
Experience the Alfa Romeo Stelvio at Genesis Alfa Romeo Today
If you're ready to turn heads and make a statement with your vehicle, there's no better choice than the Alfa Romeo Stelvio from Genesis Alfa Romeo. The Stelvio offers the perfect combination of style and substance with its powerful performance, elegant design, luxurious interior, and advanced safety features.
Visit our dealership today to test drive this fantastic SUV and experience the Genesis Alfa Romeo difference. Our friendly and knowledgeable team is here to help you find the perfect Stelvio for your needs. We proudly serve nearby areas such as Macomb, Birmingham, Royal Oak, Troy, and Farmington Hills.
At Genesis Alfa Romeo, we're dedicated to providing our customers with an unparalleled car-buying experience. From the moment you walk through our doors, our professional and courteous staff will work tirelessly to ensure you find the perfect Alfa Romeo Stelvio to suit your needs and lifestyle.